Breaking News: Realme Joins Forces with "King Khan" Shah Rukh Khan as Brand Ambassador for Smartphones!
Hey, folks! We have some exciting news to spice up your day! Realme, the cool Chinese smartphone maker, has just pulled off a masterstroke by roping in none other than Bollywood's heartthrob and the king of romance, Shah Rukh Khan, as their brand ambassador for smartphones. Can we get a big round of applause, please?
Bringing Bollywood Glamour to the Smartphone World
Realme, known for its expensive and youth-centric smartphones, couldn't have found a better match than our very own King Khan. They believe that Shah Rukh Khan truly embodies the spirit of Realme. With his incredible journey and magnetic personality, he perfectly represents Realme's commitment to giving users an extraordinary experience. Talk about adding some Bollywood tadka to your smartphone!
The Perfect Match: Realme and King Khan
Shah Rukh Khan will endorse the much-awaited Realme 11 Pro and Realme 11 Pro+ smartphones. These babies recently made waves in China and are all set to make their grand entry into the Indian market next month. Trust us, the timing couldn't be more perfect!
Now, let's spill the beans on the juicy details!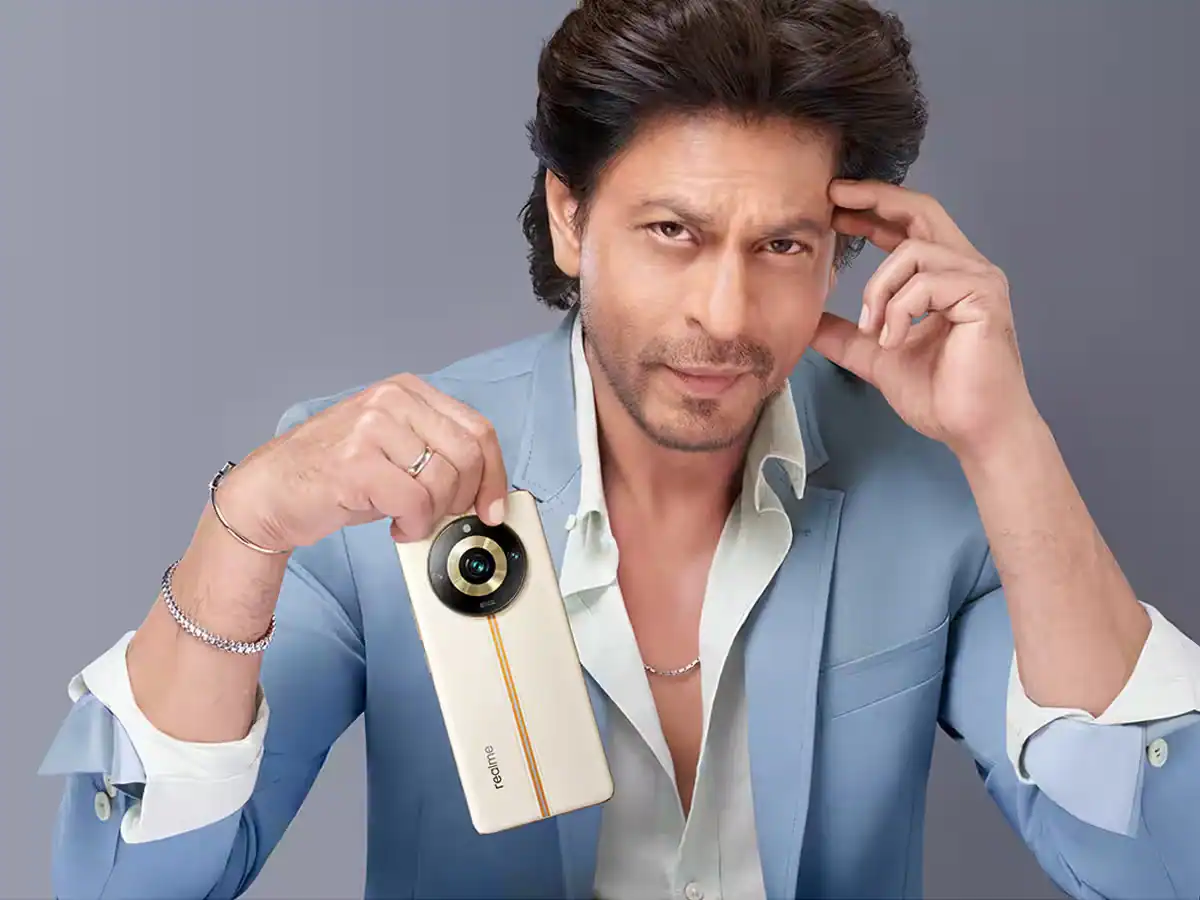 Capturing the Hearts of Indian Consumers
We Indians know how crazy we are about our Bollywood stars, right? Realme has cracked the secret code by teaming up with the baadshah himself. With Shah Rukh Khan's massive fan following and the nation's obsession with everything Bollywood, Realme aims to strike gold with the Indian youth and tech enthusiasts.
A Note to Realme: Keep it Balanced!
But wait, here's a nice piece of advice for Realme. Please don't go overboard with the packaging as you did with Salman Khan's pictures all over the boxes. Not everyone is a die-hard fan, you know! Let's hope they find a sweet spot where smartphones shine, and Shah Rukh Khan adds sparkle.
A Powerful Alliance: Realme and Shah Rukh Khan
Realme's audacious move to bring Shah Rukh Khan on board shows their ambition to conquer the Indian smartphone market. With the king by their side, they are ready to shake things up and give other brands a run for their money. The combination of Realme's killer technology and Shah Rukh Khan's star power is a match made in smartphone heaven!
A Bollywood-Inspired Smartphone Journey
So, my dear folks, get ready to witness a perfect blend of Bollywood magic and cutting-edge technology! Realme, with Shah Rukh Khan leading the pack, is all set to take us on an exhilarating journey filled with innovation, style, and a dash of entertainment. Brace yourselves because this collaboration is going to be an absolute blockbuster!
For more articles, follow us on Google News, Facebook, Telegram, and Twitter to stay updated on the latest news and developments.
Subscribe on YouTube!
Did you enjoy this tip? If so, check out our very own YouTube channel where we JUST cover Realme, Realme Tips and Tricks and apps for Realme, and have a bunch of troubleshooting tips and how-to videos. Click the button below to subscribe!
Subscribe