WhatsApp, a popular messaging and video-calling app developed by Meta, has continuously updated its platform with new features to provide an exceptional user experience. With over 2 billion users in more than 180 countries, WhatsApp is a reliable and private messaging app that keeps people connected with their friends and family across the globe.
Over the past few months, WhatsApp has introduced several new features resembling functionalities on other social media platforms such as Instagram and Telegram. These additions have further enriched the user experience on WhatsApp.
Here are some noteworthy features recently introduced on WhatsApp
Multi-Account
WhatsApp's Multi-Account feature enables users to manage multiple accounts within a single app. This functionality allows users to seamlessly switch between accounts, making managing personal and professional conversations convenient.
Message Editing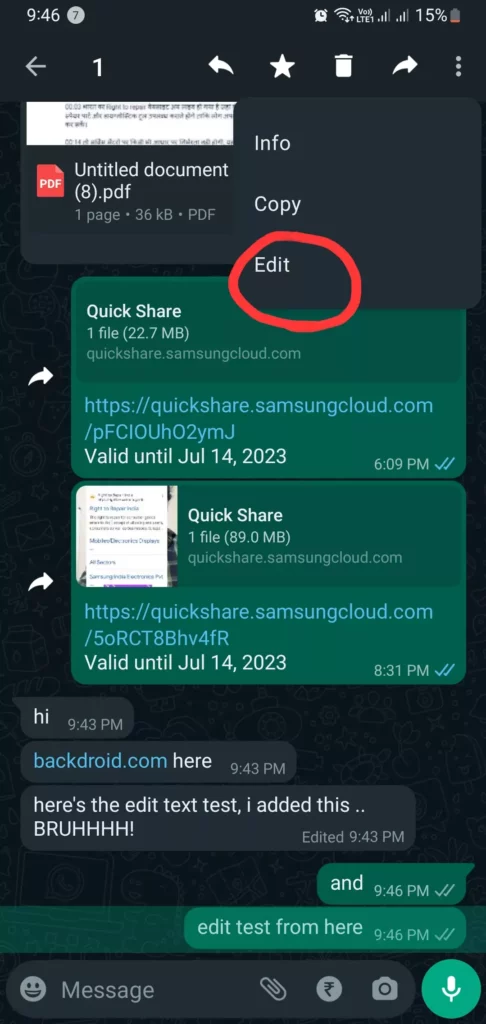 With WhatsApp's Message Editing feature, users can now edit messages after sending them. Whether fixing a typo or providing additional context, users can change their messages within a 15-minute, ensuring clearer and more accurate communication.
Channels
WhatsApp Channels are a reliable and private means to receive important updates from individuals and organisations directly within the app. This feature facilitates one-way broadcasts, allowing admins to share text, photos, videos, stickers, and polls with their audience.
Chat Lock
To enhance privacy and security, WhatsApp offers the Chat Lock feature, which enables users to protect specific conversations with an additional layer of security. Users can use their biometric fingerprint to ensure their most private conversations remain securely locked in a designated folder.
Companion Mode
WhatsApp's Companion Mode allows users to access their existing WhatsApp accounts on different devices conveniently. This feature provides flexibility for users who wish to use the app on multiple devices without complex synchronisation processes.
Conclusion
In addition to the above features, WhatsApp has been working on other exciting functionalities, including an innovative sticker suggestion feature that automatically recommends relevant stickers based on the emojis users type.
Furthermore, the Silence Incoming Call feature allows users to mute calls from unknown numbers, providing enhanced privacy and security while maintaining a record of the calls in the WhatsApp call log.
To stay updated with the latest articles and features, follow us on Google News, Facebook, Telegram, and Twitter. We are committed to bringing you more informative content in the future.
Subscribe on YouTube!
Did you enjoy this tip? If so, check out our very own YouTube channel where we JUST cover Realme, Realme Tips and Tricks and apps for Realme, and have a bunch of troubleshooting tips and how-to videos. Click the button below to subscribe!
Subscribe