Namaste, tech-savvy folks and smartphone enthusiasts! Today, we embark on a thrilling journey into budget smartphones, specifically the Realme Narzo N53. With its attractive price tag and sleek design, this device has caught the attention of Indian consumers.
However, like every hero, it, too, has its weaknesses. In this blog post, we'll humorously explore five disappointing features of the Realme Narzo N53 that might make you go, "Wait, hold your horses!"
5 Disappointing Features of Realme Narzo 53 That Might Make You Think Twice!
1. The Flashy Feather Gold: A Colour That Divides Opinions
Now, we know how important looks are for a smartphone or your neighbour's new car. The Narzo N53 certainly knows how to turn heads with its sleek aesthetics. However, one thing that might make you go, "Oh my god!" is its Feather Gold colour variant. It's as if the phone decided to wear a shiny, glittery disco suit! But don't you worry, my friend! Realme has got your back with a Feather Black option, which is more subtle and won't make you the star of every party.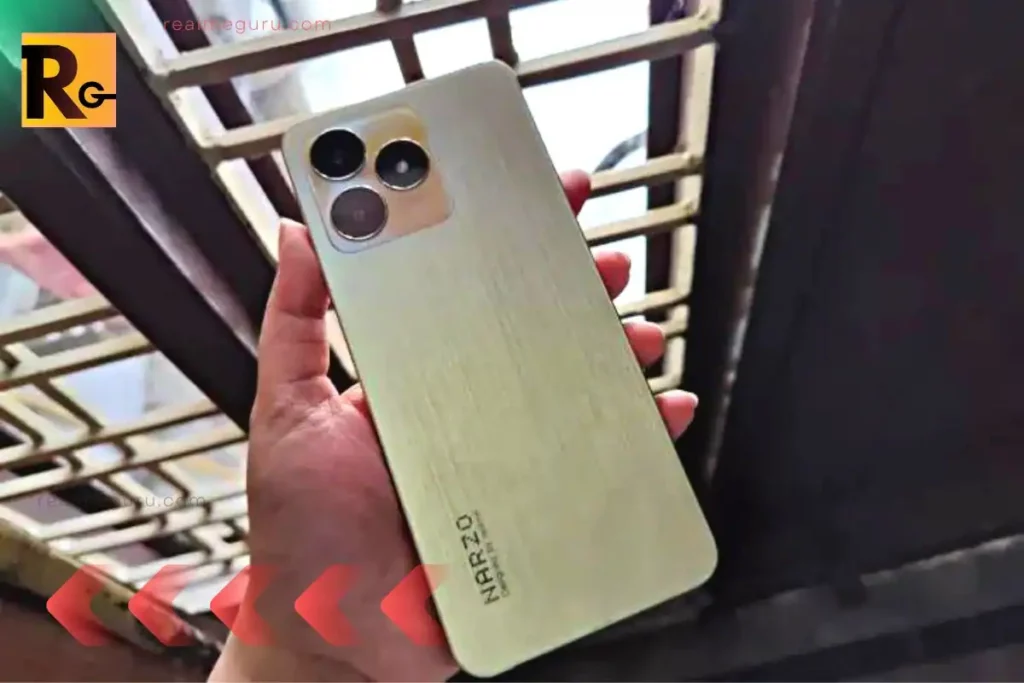 2. Average Camera Performance: A Downside for Photography Enthusiasts
Are you a photography enthusiast? Hold on to your selfie sticks because we have news for you! The Narzo N53 boasts a 50MP primary rear camera, which sounds impressive. In broad daylight, it captures some pretty snazzy shots with good detail.
But when the sun sets, and darkness creeps in, the camera's performance starts playing hide and seek with the details. Low-light photography becomes a challenge, and you might find yourself saying, "Arre yaar, where did all the details go?"
3. Bloatware Overload: Too Many Unwanted Apps
We all love surprises, but when it comes to smartphone software, surprises are only sometimes delightful. The Narzo N53 has many preloaded apps you may not need or want. It's like opening a treasure chest and finding various apps like Moj, IIFL, Paytm, Snapchat, and more. Oh, and did we mention the "Hot Apps" and "Hot Games" folders that cannot be removed? The phone says, "I know what's hot, and you're stuck with it!" Quite cheeky.
4. Occasional Stutters: Performance Hiccups
Picture this: you're in the middle of a heated WhatsApp debate, ready to unleash your ultimate comeback, and then suddenly, the phone stutters. You're left there, waiting for the device to catch up, and by the time it does, your moment has passed. The Narzo N53's UNISOC T612 chipset does a decent job with day-to-day tasks, but it occasionally stutters and experiences delays while launching apps. It's like the phone is trying to keep up with your lightning-fast wit and occasionally trips over its virtual shoelaces.
5. Limited Gaming Capabilities: Not the Best Choice for Gamers
Let's discuss the Narzo N53's gaming prowess for all mobile gamers. This phone will keep you entertained if you're a casual gamer who enjoys a Candy Crush or Ludo round. However, if you're a serious gamer, ready to take on Call of Duty: Mobile and conquer virtual worlds, this phone might need help to keep up with your gaming prowess. It's like bringing a peashooter to a Bazooka battle. So, unless you're into the thrill of constant lag and stutters, it might be wise to explore other gaming-friendly options.
The Realme Narzo N53 has two colour options: Feather Gold and Feather Black. These colour variants offer a stylish and attractive design.
Realme Narzo 53 Good Features or PROS
Beautiful design: The Narzo N53 boasts a slim and sleek design, measuring just 7.49mm thick and weighing only 182 grams. It has a stylish California Sunshine design with the texture of a golden line on the back panel, giving it a unique and appealing look.
Large battery: The smartphone is equipped with a 5000mAh battery, which provides ample power for all-day usage. It also supports 33W SuperVOOC fast charging, allowing you to recharge the device quickly.
Mini capsule: The Narzo N53 features a unique functionality called "Mini Capsule," inspired by Apple's Dynamic Island. It adapts to the display and is wrapped around the punch-hole selfie camera, displaying battery status, data usage, and steps walked in a day.
Good primary camera: The device sports a 50 MP primary camera, which performs well in outdoor settings during the daytime. It captures images with good details and colours. The camera also offers decent performance in indoor settings with good lighting conditions.
Realme Narzo 53 Downpoint or CONS
Mediocre gaming performance: The Narzo N53's gaming performance is not exceptional. While it can handle light games smoothly, heavier games like COD Mobile and Asphalt 9 may experience lower frame rates and medium graphics settings.
Low brightness and refresh rate: The device has a 90Hz refresh rate, which may feel lacking compared to devices with higher refresh rates. The display's peak brightness is also limited to 450 nits, making it less visible under direct sunlight.
Loads of bloatware: The smartphone has pre-installed bloatware, including apps like Snapchat, Spotify, Share Chat, and more. Although these apps can be uninstalled, bloatware can annoy some users.
Useless 2MP lens: The additional 2MP lens in the camera setup is considered useless and doesn't contribute much to the overall camera performance.
Conclusion
As we wrap up this rollercoaster, ride through the five disappointing features of the Realme Narzo N53, and remember that every smartphone has its quirks. While this phone offers a sleek design, affordability, and decent day-to-day performance, its flashy Feather Gold colour, average low-light camera performance, bloatware overload, occasional stutters, and limited gaming capabilities might tickle your funny bone incorrectly.
Ultimately, dear reader, the choice is yours. Consider your priorities, your sense of humour, and your smartphone needs. If you're an entry-level user or seeking a trusty sidekick, the Narzo N53 fits the bill. But if you demand top-notch camera performance or want to conquer the gaming universe, it's time to broaden your horizons and seek a more suitable companion. Happy smartphone hunting, and may the tech gods be with you on your quest!
For more articles, follow us on Google News, Facebook, Telegram, and Twitter to stay updated on the latest news and developments.
Subscribe on YouTube!
Did you enjoy this tip? If so, check out our very own YouTube channel where we JUST cover Realme, Realme Tips and Tricks and apps for Realme, and have a bunch of troubleshooting tips and how-to videos. Click the button below to subscribe!
Subscribe